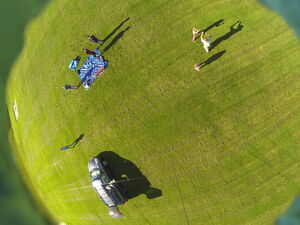 Launch with WWCC Engineering Physics class
Hydrogen (close to 200 cf)
800 g balloon
Pod 1

Small design
One APRS system
One downward GoPro Hero3 camera with extended battery
788 g mass

Pod 2

Small design
SPOT
2 side-facing GoPro camera with extended batteries
591 g mass

Total mass ~2718 g
Launch 8:15 am
Burst 9:51 am (97 min, 20 ascent)
Tumbled for 81 sec before stable descent
Landing 11:10 am (78 min descent)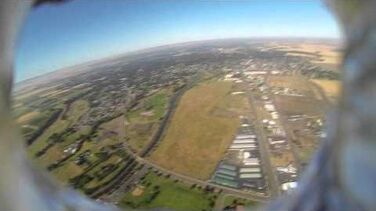 Communication devices were received. Balloon was filled. Cameras were turned on. Boxes were closed. Normal launch with five students and two children. Overfilled balloon so ascent was rapid. SPOT did not work once it was in the box probably due to the aluminum tape being used. APRS stopped working at 34000 ft. We drove to Pomoroy hoping to receive a signal. No luck. Returned to Walla Walla dejected. Took an airplane to area. Received a signal in the air with a 14:25 timestamp at 34000 feet just west of the Snake River northeast of Pomeroy. Circled area but did not find balloon. Returned to Walla Walla dejected. Took another airplane to the same area but no luck. Continued northeast and picked up APRS signal. Identified balloon from the air. Landed at Pullman, borrowed a car and recovered. Drove back to airport and returned to Walla Walla elated.
Ad blocker interference detected!
Wikia is a free-to-use site that makes money from advertising. We have a modified experience for viewers using ad blockers

Wikia is not accessible if you've made further modifications. Remove the custom ad blocker rule(s) and the page will load as expected.