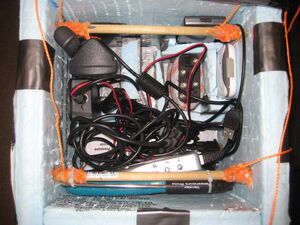 The electronics pod houses the tracking and data collecting electronics. For 2011 we used the pod originally designed to take cockroaches into near space. We have since gutted it and installed organizing dividers to house all the equipment.
Because of the extreme cold the pod was going to encounter at altitude we used only lithium batteries. Some of our devices had internal lithium batteries (cell phone and LabQuest), though we did connect the cell phone to an external lithium battery pack to give it an extra long runtime. For the rest used Energizer Lithium 4x AA or AAA batteries which we changed after every launch.
The try to keep the batteries warm we attached hand warmers to some of our devices. We zip tied a hand warmer to each side of the 8AA battery pack for the APRS Transmitter. We zip tied and taped one to the back of the LabQuest right over its battery. And we zip tied one to the back of the Garmin GPS right over its batteries.
To ensure that the electronics pod was powered up correctly before launch we devolved a check list. However, this check list only deals with turning on each device, for the May 28, 2011 launch it didn't cover installing devices and we almost forgot hand warmers in the pod.
For the May 28, 2011 launch the electronics pod had.