Launch and recovery successful.
1200 g balloon, aprs, SPOT, Hero3 GoPro with external battery & 64GB card.
No handwarmers.
Hydrogen
Launch at Martin Field, College Place, WA (46.04717 N, 118.41467 W) at 12:30:30pm PDT
Land 3 miles east of Starbuck, WA (46.51011 N, 118.05074 W) at 3:33 pm PDT
Maximum altitude: 110,443 feet (33663 m) This is a new record for us.
Thank you Rawhide in Starbuck for your WiFi.
Saw last couple of minutes of the descent of the balloon.
Our snafu on this flight was that we did not put enough lifting gas in the balloon at first so the pod skidded along the ground on our first attemped for launch. This was due to a lack of employing a method to gauge bouyancy.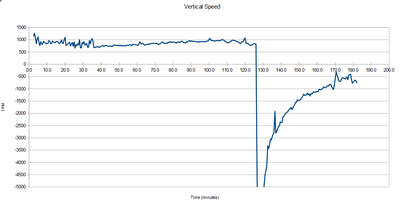 Ad blocker interference detected!
Wikia is a free-to-use site that makes money from advertising. We have a modified experience for viewers using ad blockers

Wikia is not accessible if you've made further modifications. Remove the custom ad blocker rule(s) and the page will load as expected.