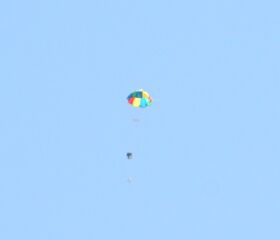 Parachute Design Diameter: 6 ft.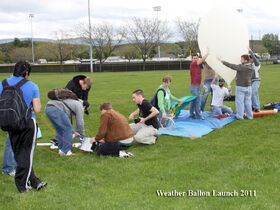 Number String Attachments: 9
Wooden Knitting Ring Size: 14 in.
Strings Length: 4.5 ft. (strength: < 250 N)
Number Of Strings Attached to Balloon: 4 (7 ft.)
Parachute was purchased on Amazon.com (Brand: Funchute-Parachute from Pacific Play Tents, ages 3 plus! ;] )
The 4 ft. lines were individually sewn to each of the 9 extensions of the parachute, to reinforce the strength. At the other end of the lines, they were attached to the wooden ring with knots and glued (hot glue).
The Balloon's attachment lines extended from the bottom of the balloon Through a hole in the center of the parachute, and down to the wooden ring- where they were attached with knots and enforced with hot glue.
Ad blocker interference detected!
Wikia is a free-to-use site that makes money from advertising. We have a modified experience for viewers using ad blockers

Wikia is not accessible if you've made further modifications. Remove the custom ad blocker rule(s) and the page will load as expected.