This pod consisted of a gyroscope for active stablization of the camera pod.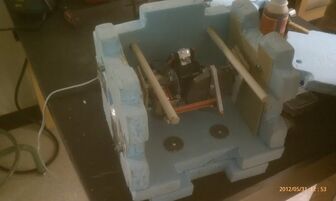 The gyroscope was donated by Eric Schulz, and driven by a 12 volt motor via a drive belt. The unit was balanced and allowed to rotate on gimbal. It was powered by a lithium ion battery from a cordless dremel tool. The pod weighed about 1.7kg and was attached directly to the camera pod for stabilization.
Ad blocker interference detected!
Wikia is a free-to-use site that makes money from advertising. We have a modified experience for viewers using ad blockers

Wikia is not accessible if you've made further modifications. Remove the custom ad blocker rule(s) and the page will load as expected.